Visit one of our fully-stocked on-site Pro Shops for apparel and equipment.
The Lyman Orchards Golf Center and Golf Club Pro Shops cater to a wide array of apparel and equipment needs on and off the course!
We also offer fitting sessions for TaylorMade, Callaway, Cobra, and Titleist clubs. Body types, swing speeds, and level of expertise come into play when selecting the best fit for you.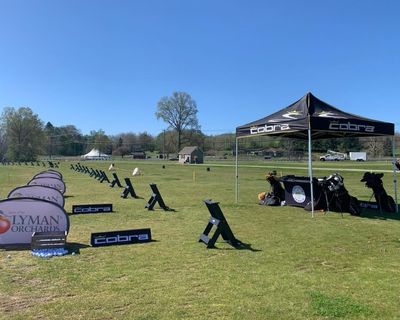 Lyman Orchards Golf Club Pro Shop:
Titleist
TaylorMade
Callaway
Srixon Golf Balls
Ahead Apparel
Footjoy Shoes & Apparel
Greg Norman Apparel
Lyman Orchards Golf Club Pro Shop:
Titleist
TaylorMade
Callaway
Srixon Golf Balls
Ahead Apparel
Footjoy Shoes & Apparel
Greg Norman Apparel
Mizuno Clubs
Tour Edge Ladies Box Sets of Clubs
U.S. Kids Golf Clubs
Scales Golf Apparel (Men's & Women's)
True Linkswear Shoes
Garb Junior Apparel
Courtside Kids Apparel