Lyman Orchards Golf Center was once again recognized as one of the Top 50 Public Driving Ranges in the United States by the Golf Range Association of America. There is no better or more complete practice and teaching facility for you to work on all aspects of your golf game. Target greens and simulated fairways give you a more game-authentic practice experience. While more than 40 stalls on both sports turf and natural grass allow you to work all the clubs in your bags.
Short Game Practice Area
Anyone who knows golf knows that the short game is the hardest to master. It takes feel. It takes precision. Most of all, it takes practice.
Research by the PGA Tour and others has shown that over 65% of all golf shots are played inside 120 yards. The Golf Center's 20,000 square foot short game practice area allows you to work on the most under-practiced aspect of the game. The area is complete with rough, uneven lies, a sand trap, and has multiple hole locations. Try it and you'll see how a little practice can make a big difference in your score.
Putting Green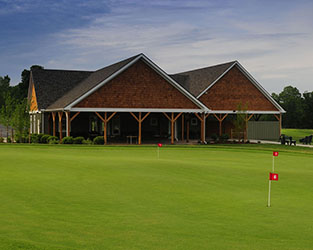 In a regular game, putting can make up 40% to 50% of your golf score. And that's assuming you successfully eliminate three- and four-putt greens. In fact, in most rounds, putting is the ultimate determining factor of your score on every hole. And remember, a missed putt is a serious mistake you can't reverse. Bottom line: Improving your putting is one of the best ways to improve your score.
Besides, there's no better feeling than dropping that putt in one shot. You can do it, but it takes practice. That's where The Golf Center's large, bent-grass putting practice area comes in handy. With undulating slopes and multiple target holes, you can work on all different lies and distances.