There's a lot to love about the sport of golf, including the great outdoors, the camaraderie, and the competition. To pay homage to the greatest game, music legends John Denver and Bing Crosby have penned songs ("18 Holes" and "Straight Down the Middle"); a gentleman in Illinois built a 30-foot-tall golf tee and another individual in Louisiana collected more than 75,000 golf balls with different logos; and on the Apollo 14 mission, Alan Shepard teed off a couple golf balls on the moon, playfully explaining: "I did this since I am patriotic and concerned about the security of the nation." Of course, the best way to demonstrate your love of the sport is to just get out and play! And, because of such widespread adoration and fascination with golf, opportunities to play abound. When selecting a course to spend your valuable time, consider some of the following reasons why Lyman Golf is worthy of sharing your golf-love:
First off, there's VARIETY. Lyman Orchards excels at providing "something for everyone" and that excellence extends to Lyman Golf. A rare variety of golfing options is available at Lyman Golf for its patrons:
Two 18-hole courses each with four sets of tees (the Jones Course and the Player Course);
One 9-hole short course (Par 29) (the Apple Nine);
Two separate driving ranges (one at the Golf Center and one at the Golf Club);
Fully loaded short game practice areas and putting greens; and
An Indoor Golf Simulator (at the Golf Center) with three bays utilizing the Trackman 4 golf simulator.
Then there's the SETTING. Lyman Golf is a spectacular destination for its picturesque courses in central Connecticut with rolling hills, woodlands, wetlands, and grasslands. As part of Lyman Orchards, visiting golfers can easily tie in some fruit picking, shopping, and other seasonal entertainment as part of their day. Golfers on the Player Course even pass through the apple orchards and are treated to breathtaking 360-degree Connecticut landscape views on holes 11 and 13.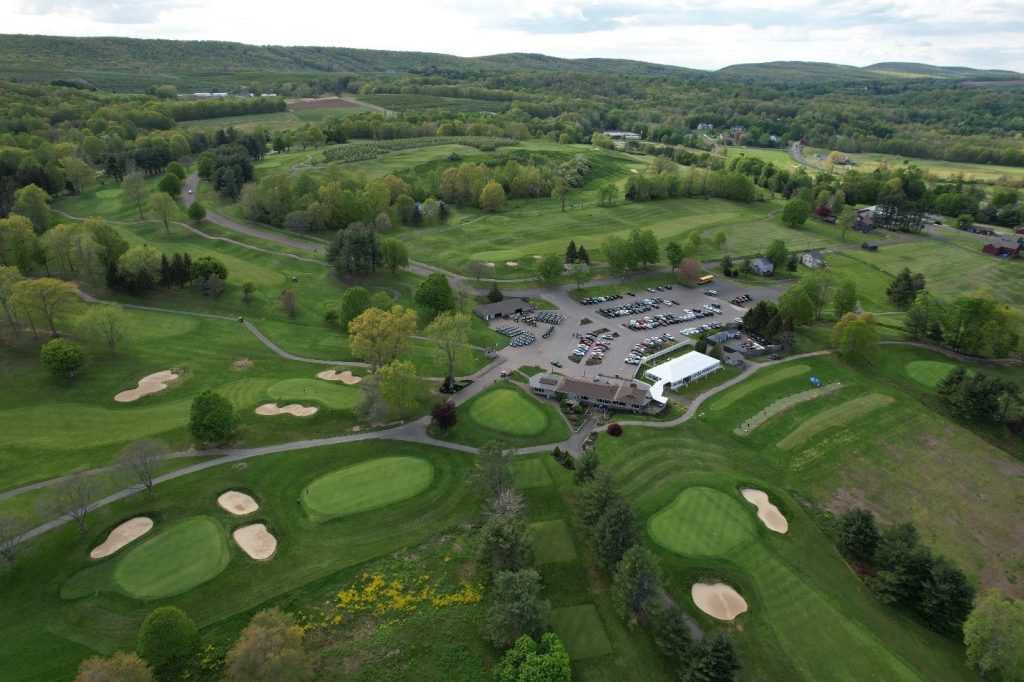 Speaking of Connecticut, the LOCATION of Lyman Golf makes it a convenient destination for golfers near and far. Lyman Golf is in Middlefield, CT, near Durham, CT, only 15 minutes from Middletown, CT, and only 15 minutes from Wallingford, CT, making it a perfect location to meet friends from the local area. With easy access to I-91, Lyman Golf welcomes visitors from all parts of Connecticut, New York, Rhode Island, Massachusetts, and beyond. Click here for directions.
It would be outrageous to talk about the reasons to love Lyman Golf without mentioning our award-winning PGA and LPGA INSTRUCTORS. Everyone can use a little help, whether you are a golfing veteran or just learning to swing a club, and we are so proud of our instruction team. Every type of lesson is available including private lessons, group clinics, corporate instruction, men's programs, ladies' programs, and junior programs and camps. Start here on our Instruction page to learn more about our amazing instructors and programs and to find the perfect boost to your golf game.
It's also surprising what a little TECHNOLOGY can do to improve a game, and Lyman Golf embraces the latest tech innovations that the golf industry provides. The right equipment can make all the difference, and Lyman Golf includes two professionally stocked pro shops (one at the Golf Club and one at the Golf Center). If you're looking to invest in new clubs, Lyman Golf can assist with a fitting. Using the Trackman 4 indoor golf simulator at the Golf Center combined with professional instruction can greatly help develop a consistent iron game. Our tech will also support you on the course through the GPS golf carts which provide your distance to the next hole – so cool!
Another reason to love Lyman Golf is the EVENTS. It is SO-MUCH-FUN to share your love of golf with others. Lyman Golf hosts several leagues including separate men's and ladies' leagues, couples' leagues, mixed leagues, junior leagues, and even a simulator league! Lyman Golf is also perfectly equipped to host small and large group golf outings, tournaments, and charity events including a wide range of services and catering options. Special "FUN" events are planned throughout the year, such as Golf Fore Fun Scrambles and Night Golf with LED night balls!
Last but not least, you will love the DINING options at Lyman Golf. Our newest (remodeled and rebranded) restaurant is the 1741 Pub & Grill located at the Golf Club (near the Jones Course and the Player Course). 1741 serves up elevated pub fare and drinks, including plenty of favorite local craft brews on tap. Fantastic indoor and outdoor dining is available, with golf course and driving range views, and TVs throughout showcase golf tournaments around the world. At the Golf Center (near the Apple Nine), the Snack Bar serves up quicker favorites. Finally, right across the street from the Golf Center sits the Apple Barrel Farm Market with a large made-to-order deli menu of artisan sandwiches and salads and even an ice cream window.
You know golf is wonderful. Let Lyman Golf show you how much we love golf too. Easy online booking is just a click away. We look forward to seeing you soon!