Lyman Orchards and Lyman Golf are very proud to announce that the readers and voters of Connecticut Magazine have named Lyman Golf as having the BEST PUBLIC GOLF COURSE in 2021.  If you are only familiar with Lyman Orchards as making "that delicious pie you buy at the supermarket" and were not even aware that Lyman Golf exists, then this may come as a pleasant surprise!  Yes, Lyman Golf can be found right at Lyman Orchards, and it is officially the best public golfing available in CT. 
If you're still wondering how Connecticut's favorite orchard came to have the Best Public Golf Course in CT, let us fill you in: The journey started in the 1960s after the dairy operation (!!) was being phased out of the Lyman pastures. The Lyman family decided to embark on an entirely new field of business by putting a golf course on the extra acres no longer dedicated to cattle. Constructed commenced in 1967 and the Robert Trent Jones course opened for play in 1969.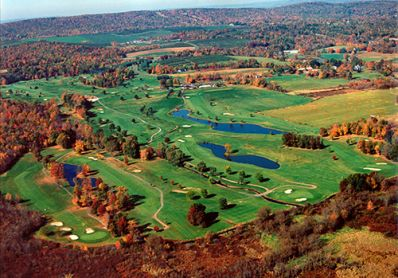 Running an orchard and a golf course is like being on Mother Nature's payroll. She provides the miracle of nature in the bounty of fruits for picking and the splendor of rolling hills for golfing. But she can also be fickle and alternate between weekends of flooding with weeks of drought-like conditions and unbearable heat or hurricane-force winds or freezing temperatures when it should be warm. Being a family-owned farm since 1741, Lyman Orchards has been employed by Mother Nature long enough to learn a few predictive and preventive strategies to stay afloat in the ever-changing New England weather. So, while it was a nerve-wracking first few years of operation for Lyman Golf, the Jones Course eventually became a beloved part of the family business.
In fact, by the 1980's it was determined that running a golf operation was slightly less impacted by the erratic behavior of Mother Nature than raising fruits and vegetables. So, in the interest of boosting the positive impact of the golf operation on Lyman Orchards, a contract was signed in 1989 with Gary Player for the design of a second 18-hole golf course, which opened for play in 1994.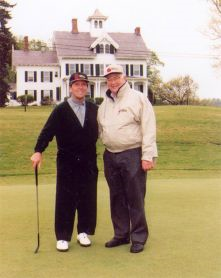 The late 1990s were an exciting time for golf when Tiger Woods hit the scene and the Player course soon became a valued addition to Lyman Golf. More young people were becoming interested in golf and while Lyman's two 18-hole golf courses provided plenty of opportunity for play, the idea of easing the transition from total novice to Par 70+ play began to take hold.
In 2012, with instruction and beginners in mind, Lyman Golf was ecstatic to welcome the public to the newly built Golf Center and Apple Nine course.  The Par 29 course (two short Par 4 holes and seven Par 3 holes) is perfect for families and less intimidating to novices.  However, the Apple Nine is also beloved by experienced golfers looking for a quick game and is wonderful for anyone wanting a bit less walking.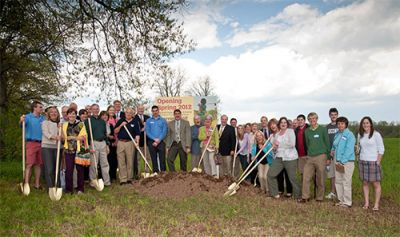 The Golf Center is a hub for all things golf instruction. It began and continues to be the most well-rounded practice venue in CT with a 40-stall driving range and 20,000 square foot short game and putting practice area. We've also added three Trackman 4 Golf Simulators which are totally entertaining, enable year-round golfing, and can be used to add consistency to your game. What started as an excellent instruction program just continues to get better and better every year. A wide assortment of lessons and fun clinics are available with a phenomenal staff of PGA and LPGA instructors, including LPGA's NATIONAL TEACHER OF THE YEAR 2021 Marissa Kulig Crow. We couldn't be prouder of our instructors and encourage all levels of golfers to learn from them.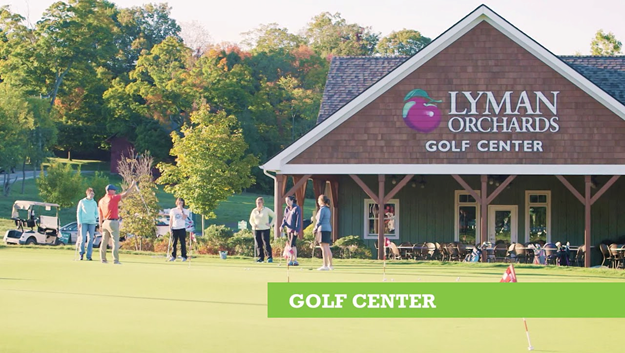 Meanwhile, at the Lyman Orchards Golf Club (the home base for the Jones and Player courses) you'll find the delightful 1741 Pub & Grill. Our recently updated full-service restaurant is outfitted with several TVs to catch the biggest golf tournaments, indoor and outdoor dining, gorgeous golf course views, a delicious menu of elevated pub fare, the best selection of après-golf beverages, and a line-up of entertainment and special events that will knock your socks off.
October is a beautiful time of year to golf, so now is the perfect time to see for yourself why Lyman Golf was voted Connecticut's favorite public golf course. In the meantime, Lyman Golf will continue to work hard to deserve this award. We can't wait to introduce you (or welcome you back) to our courses!